Blank Stickers With with Rounded Corner
Wide selection from following labels and sticker.
Square / Rectangular Shaped Blank Label Stickers with Rounded Corner
Pre-Cut Self Adhesive Blank Stickers with pre-printed Red borders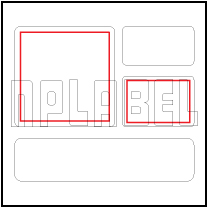 General Purpose Blank Sticker With Rounded Corner
Size Available : 75 x 20mm, 38 x 25mm, 50 x 12mm, 55 x 30mm, 75 x 20mm, 110 x 50mm
Stickers available in Sheets with Rounded Corner.
Select with RED Printed Border or Plane Without Border Printed.